Hope Touched Our Hearts and Our Minds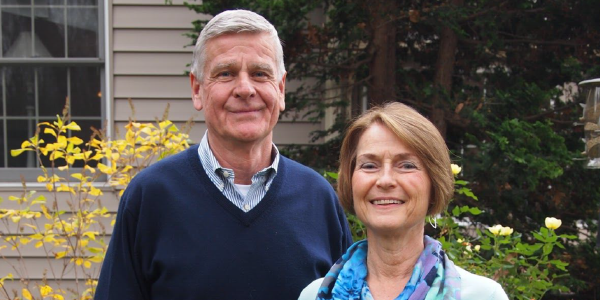 Jerry '67 and Mary'69 Zwart give back to Hope because they know it's a special place where faith is lived out and nurtured.
Jerry '67 and Mary Rynbrandt '69 Zwart have fond memories of their individual experiences at Hope as well as the experience and impact the college has had on their family, friends and community. This extensive involvement and love for Hope College has a lengthy history that is indeed both multigenerational and broad.
"There is no question this legacy of Hope matches our culture, our style, our upbringing and values," Jerry says.
Mary appreciates the spiritual and academic guidance that she received as a student. She further observed this in their daughter's experience as a student at Hope. Additionally, Jerry and Mary often reflect on the college's friendly atmosphere and still experience such whenever they visit and participate in events on campus with students, faculty and alumni. They strongly believe that relationships formed during the years they spent at Hope College are sincere and last a lifetime. They speak of a pride to be of Hope's heritage and how that richness continues to grow.
Mary says happily, "We give to Hope because we love Hope! This is a special place where the Christian faith is lived and nurtured."
Jerry adds, "We had great times at Hope College individually, before we met, and that bond with alumni continues today. We had strong feelings for Hope as students and wanted to continue to support our alma mater."
The Zwarts are actively involved in activities on campus with numerous cultural offerings including music and theatre as well as spirited athletic events. They are proud to have been a part of Hope. They see how the college continues to develop and advance and bring new opportunities to students in athletics, academics and extracurriculars that are progressive and always growing. He comments further, "As a Christian college, Hope supports our values and our philosophy of life."
The Zwarts are committed to supporting Hope's future with contributions to the Jim and Martie Bultman Student Center, Jack H. Miller Center for Musical Arts, the Hope Fund and have the college in their estate.
"Hope impacted our lives as students in every way: academically, socially, and spiritually," Mary says. "As alumni these memories continue to be vitally important in our regard for Hope and its future. Our efforts continue to help provide the very best college experience for students. We're still getting value from our time on campus and seeking to return that to the college. Heart and mind combined, this is why we give to Hope."
The college is most grateful to Jerry and Mary and the many other supporters of Hope.
Support a Bright Future for Hope
By planning a gift to support Hope's future, you can join Jerry and Mary in helping the college carry forward its mission of educating students for lives of leadership and service. Please contact Hope College at 616.395.7775 or development@hope.edu to explore simple but meaningful ways to give.