John and Dede Howard: Strong and Consistent Support With CGAs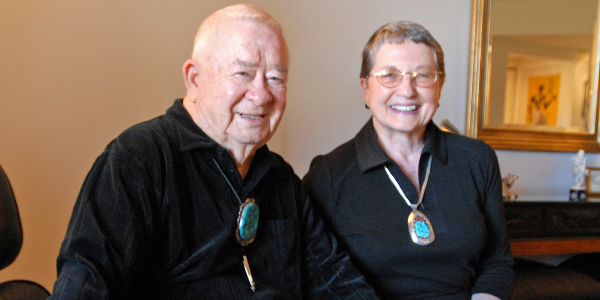 John & Dede Howard
For many years prior to moving to Holland from a comfortable home on a bluff overlooking St. Joseph's Lions Park Beach, John and Dede Howard attended and supported the performing arts at Hope College.
"We moved to Holland five years ago, but we had been attending concerts at Dimnent Chapel and had been season ticket holders to the Great Performance Series for years," John says. "We continue to enjoy the faculty and student recitals." The Howards are enthusiastic supporters of Hope College and its mission of providing an exceptional education to students in a caring Christian environment.
"Supporting young people is important, a positive use of our resources and allows us to leave our legacy at Hope College," Dede says. "We really appreciate helping and encouraging the students, because even a small scholarship can make the difference of whether a student can attend college or not."
John adds, "I am a musician and a teacher, so I am interested in all things educational, especially musical education."
John and Dede are philanthropically active and have found that supporting Hope College fits nicely into their philanthropic goals. Realizing the positive impact Hope College continues to have on their lives and on the lives of its students and alumni, the Howards have partnered with Hope and have recently completed their third charitable gift annuity. This arrangement allows John and Dede to maximize their philanthropic ambitions of helping provide a source of funding necessary to address student needs far into the future at Hope College-while generating a life income stream and tax deduction for themselves.
John sums it all up by saying, "You can't take it with you, but you can send it on ahead."
To learn more about how you can create your own legacy of support for Hope College, contact Hope College at 616.395.7775.