Dreaming of a Hope Education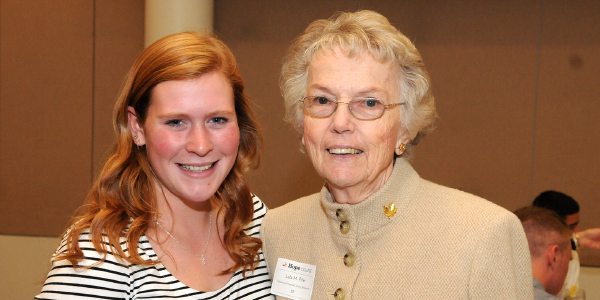 Addison Huss has formed a friendship with Lanting family representative, Lela Pifer.
"I always wanted to attend Hope," states Addison Huss, currently a junior on campus. She grew up visiting campus from her home in Brighton during the summer and just knew this was a place where she could thrive.
Her parents, Brad Huss '88 and Jodi Townsend '89, and her older sister Alexandra Huss '16, had attended Hope themselves and Addison could not wait for the time when she too would be a student here. Thankfully, she was awarded scholarships that allowed her to pursue her education at Hope.
Addison is a now a junior studying social work and hopes to serve as a school counselor. She loves her professors because they are personable, welcoming and incredible mentors for subjects both in and outside of the classroom.
Outside of studying, Addison enjoys spending time with friends and taking advantage of all Hope has to offer. She's active in Nykerk, intramurals, Kappa Beta Phi sorority and leadership opportunities in Young Life and Orientation.
Addison is a recipient of the Robert and Virginia Lanting Endowed Scholarship and has developed a friendship with Lela Pifer, a representative of the donor family.
This fund was established by Robert and Virginia Lanting to provide scholarships for deserving students with financial need, with preference given to students entering the field of education or missions. Ms. Pifer has been a welcome face throughout Addison's Hope experience as she often meets with Addison over coffee or lunch. Ms. Pifer has been an incredible support system for Addison over the past three years. Without the support of faithful donors like the Lanting family, Addison wouldn't be where she is today.
By planning a gift to support Hope's future, you help the college carry forward its mission of educating students like Addison for lives of leadership and service. To get started, contact Hope College at 616.395.7775 or development@hope.edu.