A Community Champion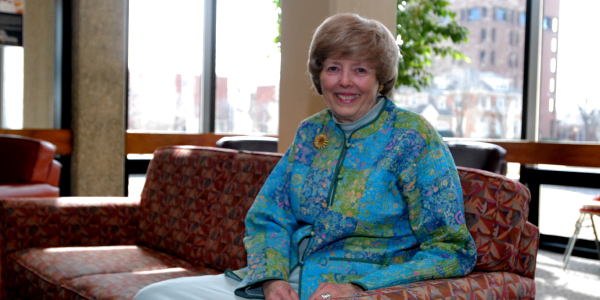 Peg Van Grouw
Peg Van Grouw may not be a graduate of Hope College herself, but she is a vibrant and dedicated member of the college community. Peg grew up in the Lansing area and attended Michigan State University. After graduation she looked to various other cities around the state to find a teaching job. When she traveled to Holland for an interview, she knew it was the right fit. "It was very clear that Holland cared about me, and I have tried my best to give back," Peg says.
The Hope community is very fortunate Peg stayed in Holland. Her husband, Steve, is a 1958 graduate of Hope and her son, Todd, is 1986 graduate of Hope. Her many years of various community involvement in Holland have included service on the Third Reformed Church Consistory, Zoning Board, Historic District Commission, Planning Commission, Youth Advisory Council, American Association of University Women and the Hope Academy of Senior Professionals. Peg believes that Hope and Holland's town and gown relationship is integral to the success of both the college and the city. "The commercial, educational and cultural impact that Hope has on this area is vital," Peg says.
Because she believes in the mission of the college and believes it is important to the success of Hope, Peg recently finalized her second charitable gift annuity (CGA) with the college. Peg has found that a CGA is good financial planning for her in that it generates a lifelong income stream, provides a tax deduction and allows her to support Hope.
Her first CGA will benefit the Martha Miller Center for Global Communication, which is located on the site of Lincoln Elementary, where Peg once taught. Her second CGA is designated for a potential concert hall on Hope's campus. The Van Grouws have also made provisions in their estate plans that will benefit the college and are members of the Dimnent Heritage Society .
We are grateful to Peg and those who support the college and its students, for their foresight, generosity and partnership.