Giving Thanks for Hope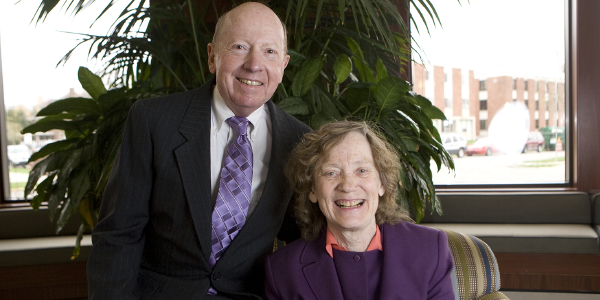 Don & Connie Kregar Scott
Donald '59 and Constance Kregar '61 Scott of Burlington, Vt., have been strong and consistent supporters of Hope College for the duration of their 47-year marriage. While together at Hope, Don and Connie attended Beechwood Reformed Church and were welcomed by the Rev. Van Pernis and his wife, Bea, who had a profound impact on the couple.
In recognition of the positive impact both Hope and the Van Pernises continue to have on them, Don and Connie established the Rev. Elton '48 and Beatrice Soodsma '51 Van Pernis Endowed Scholarship Fund. The Scotts have also taken advantage of the benefits of the recently renewed IRA charitable rollover. This law allows individuals 701/2 and older to donate up to $100,000 from their IRAs to charities tax-free in 2009.
We were proud to honor the Scotts when they were back on campus for Don's 50th reunion celebration. At the class of 1959 50-Year Circle induction, Don delivered a wonderful message challenging his class to be inspired to support Hope College.
Hope College would like to thank the Scotts and the 680-plus members of the Dimnent Heritage Society for their generosity in supporting Hope College through planned gifts. For more than 30 years, planned gifts from donors such as Don and Connie have helped shape the character of Hope College and its community. Please let us help you create your Hope legacy today.