Shaping Lives at Hope College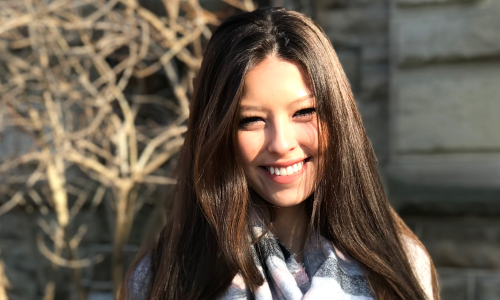 Anna Gibbs '20
Anna Gibbs '20 is from Bad Homburg, just outside of Frankfurt, Germany. She was born in Austria and graduated from Humboldtschule High School; she also spent a year in Holland, Michigan at Black River Public School. Anna majors in psychology and minors in communications. Outside of the classroom, Anna is involved on campus as a student ambassador, admissions host, Phelps Scholar and student-receptionist in the Office of Development and Alumni Engagement. Anna is at Hope in part because she received a scholarship funded from a donor's bequest.
"I had always known about Hope College because of my dad's involvement in various ways and his connections on campus." Anna's father, Brian Gibbs '84, served on the Alumni Association Board of Directors from 2009 until 2015 and is currently on the Board of Trustees. "He talked about Hope a lot. Frankfurt has a big international airport. We would have Hope students, faculty and staff members visiting our home while they were traveling, especially for the Vienna Summer School Program."
While Anna was a student at Black River, she lived with Dr. Dede Johnston, Professor of Communication, and her family. Because of her experiences in West Michigan and on campus, Anna always knew that her post-secondary experience would be an American one.
A major factor that impacted her decision to attend Hope was the care and support of the professors and faculty. She states, "I knew that I would have the support that I needed here."
Anna is looking forward to an internship this summer with Opportunity Alliance in Portland, Maine, which is a non-profit assisting with various programs throughout the community.
Reflecting on her time on campus to date, Anna says, "The kind of people who go to Hope, the people who live in Holland, are very different than in Germany. This is a place where I can learn more about how important faith is to people here and be challenged in my political views. At Hope, there are ways to engage in these conversations in different classes. I've been shaped through the classes that I'm taking and the Hope community. Many people have taken the time to invest in me. I'm learning more about myself by being with people who challenge me and who are also very uplifting. I don't think I would have experienced that in the same way at a different school."
You can make a lasting difference for Hope students like Anna. To learn more about making an impact at Hope College, please contact Hope College at 616.395.7775 or development@hope.edu.