Paying It Back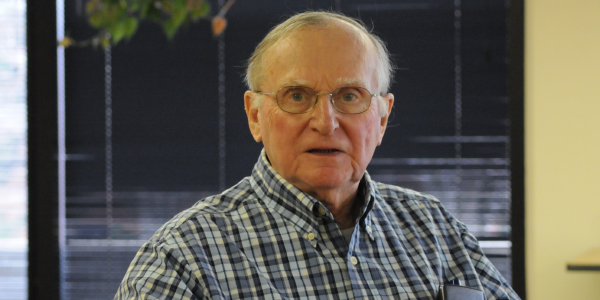 Gerard E. Marsh
Although his Hope College education was interrupted several times, Gerard E. Marsh '56 didn't let that stop him from earning his Hope College diploma. Jerry came to Hope from Kalamazoo after visiting campus on a church trip. He was enrolled for only one semester, however, when he temporarily left Hope for the ROTC, returning to campus for his sophomore year. Another interruption took place when he enlisted for active duty in the U.S. Navy, returning once again to campus for the 1954-55 school year.
While at Hope, Jerry majored in business and studied under the tutelage of economics professor Dr. Ken Weller. "Dr. Weller piqued my interest in business and taught me the world of economics, which led me to a long career in the field," Jerry says. Jerry spent the majority of his professional life working for the state of Michigan as a financial institution examiner.
HELPING STUDENTS REACH THEIR GOALS
Soon after retirement, Jerry was diagnosed with cancer. After a successful battle with the disease, he felt a strong desire to support the college in a way that was meaningful to him and helpful to others. It was this desire that led him to establish the Gerard E. Marsh '56 Scholarship Fund, which offers financial assistance with preference to students interested in pursuing careers in research and, in particular, cancer research. "Hope has a rich reputation of very bright students," Jerry says. "I am constantly impressed with the good work being done at Hope, especially through research."
In addition, Jerry has included Hope as a beneficiary of his estate. He says he knew Hope would put his contribution to good use, which made the decision an easy one. "The more I reflect, the more I realize the affect Hope had on developing me into the person I am," he says.