Celebrating 34 New Households That Joined DHS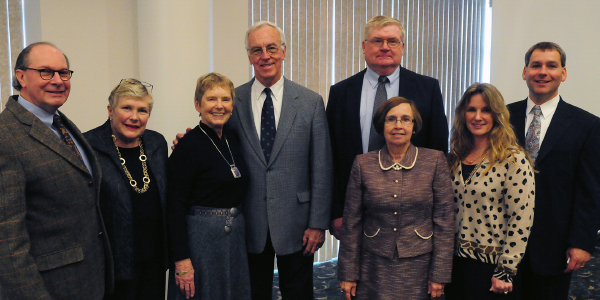 New DHS Members
Hope College is grateful to the 34 new households who joined the Dimnent Heritage Society in the last year. These members were inducted at our annual meeting and brunch following the chapel service on homecoming weekend.
Photo to right: New DHS members are, from left, Jack Siebers '63, Mary Sagendorf '65 Siebers, Petey Faber '58, Ken Faber '58, John Blom '63, Sharon Cady '63 Blom, Jennifer Steeby '91 Ruiter, John A. Ruiter '91
Membership in the Dimnent Heritage Society is offered to alumni and friends who enter into a planned giving arrangement with the college. This arrangement can be a charitable gift annuity, charitable trust, estate plan provision or a designation of Hope as a beneficiary of a life insurance policy, IRA or other qualified plan.
Let us help you create your Hope College legacy and ensure that Hope will continue to provide an exceptional education in a vibrantly Christian environment. If you have any questions about supporting Hope College or membership in the Dimnent Heritage Society, please contact Hope College at 616.395.7775 or development@hope.edu.