Couple Made Estate Plans Early to Include Hope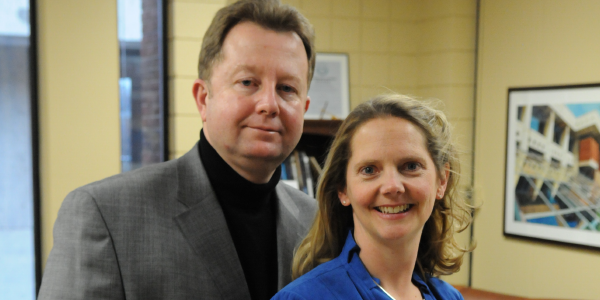 Rev. Timothy & Brenda Dieffenbach
Hope Made an Impact on Their Lives
The Rev. Timothy '84 and Brenda Hoffman '89 Dieffenbach traveled different paths to Hope College.
Tim, a first-generation student, came to Hope as a second-year transfer from Central College in Pella, Iowa. Familiar with Hope through his affiliation with the Reformed Church in America, Tim had an interest in studying religion and found Hope "to be a wonderful fit."
Brenda, the third generation of her family to attend Hope, says, "Hope College was in my blood." Even though she was given a choice, Brenda says, "I didn't apply anywhere else."
The Relationship Begins...and Never Ends
The strength of their relationship with the college now stems from relationships formed while students. Tim, a minister of congregational life at Thornapple Community Church in Grand Rapids, Mich., says that many of his relationships were formed as a resident advisor in Kollen Hall.
He enjoys returning to campus for lectures, summer theatre and especially visiting with students over lunch. Brenda, a teacher learning consultant for Forest Hills Northern Middle School, cites her experiences in the Pull and Nykerk Cup competition as well as her involvement in Greek life as a Sigma Iota Beta. They share fond memories of professors who were influential in their spiritual growth and development.
Making Their Mark and Making It Last
"We were in it from the get-go when setting up a trust after our first child was born," Brenda says. They were intentional in including Hope as a beneficiary of their estate. Going through the estate planning process helped them to focus on and narrow their family and charitable priorities.
"Hope has had a big impact on our lives," Tim says. The Dieffenbachs have joyfully made the decision to give back to the place that has given so much to them. Tim has concluded, "Planning is important, and we encourage others to do so early."