Benefiting the Present and the Future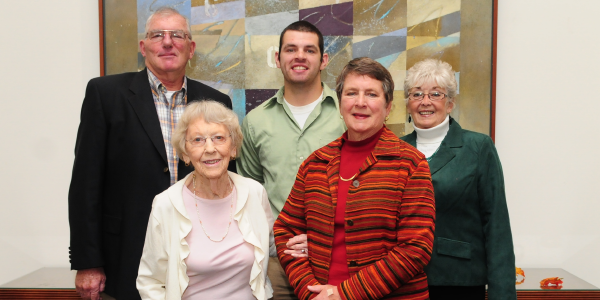 Schoon family with scholarship recipient, Jordan Carrigan
John A. Schoon never had the opportunity to attend college. His son, Dale '59, explains, "My dad grew up in a very blue-collar family in Gary, Ind., and was denied a college education." In fact, John went to work at age 15 in the steel mills of Gary and then worked for an automobile dealer until he discovered his real gift of working with people. That began a life-long career in the insurance business.
John also believed that education-especially a Christian education-was very important. It was through the Reformed Church in America that John became familiar with Hope College. "He believed in Hope and what it stood for," Dale says. John saw to it that his children would one day attend Hope. In fact, not only did John's sons, Dale and Rev. Jon M. '63, attend Hope, so did all five of his grandchildren. As an active member of the RCA and General Synod, John would eventually serve on the Hope College board of trustees from 1950-1954.
When John passed away in 2003, his wife, Anna, and family then had the opportunity to financially support Hope. A charitable lead trust was established whereby the trust makes annual payments to Hope College to fund the John A. Schoon Family Scholarship, and, at the end of a term of years, the remaining assets of the trust will be distributed to members of the Schoon family.
Learn How You Can Help
Hope College is grateful for the vision the Schoon family had in establishing their trust to support Hope students as well as ensuring financial security for their family. If you would like to learn more about what you and your family can do through a planned gift to Hope, please contact Hope College at 616.395.7775 or development@hope.edu.