Lifelong Affection for Hope Leads to Giving Back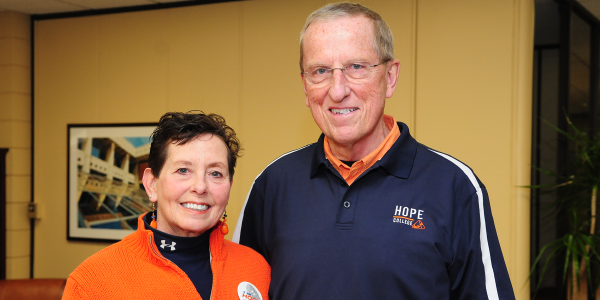 Beverly & Roger '61 Mulder
Roger '61 and Beverly Mulder have a rich history with Hope College. At the age of 8, Roger recalls not having the dollar needed to get into a Hope basketball game. So, he climbed a ladder on the outside wall of the Holland Armory and peered into a window to watch the game. "I can still see that game to this day," he says.
Born and raised in Holland, Roger was the only one of eight siblings to graduate from Hope. He majored in chemistry and has fond memories of Professors Brink, Van Zyl and Jekel, to name a few. And, although never reaching varsity status, Roger enjoyed playing basketball for Hope.
After graduating, Roger worked for one year at Kelvinator and then spent the rest of his career in management at Parke-Davis/Pfizer. Roger says of his experience with Hope graduates, "I've hired a lot of chemists over the years and found that Hope grads were a cut above the others."
Also raised in Holland, Beverly recalls at the age of 12 taking organ lessons in Dimnent Chapel from Mrs. W. Curtis Snow. A retired registered nurse, she has fond memories of mentoring many Hope students during her 53-year career at Holland Hospital and during eight years at Hope's Health Clinic. "I really got to know the students who were assigned to me on a personal level," she says.
Today, the Mulders are actively involved in the life of the college. They are faithful fans of Hope basketball and enjoy attending Hoops luncheons. Roger has served on reunion committees and volunteers his time by calibrating instruments for the chemistry department and as a recruiter for men's basketball.
Roger and Beverly have also been faithful in their financial commitment to Hope-supporting several initiatives over the years. Most recently, they decided to include Hope in their estate plans. "We know the quality of a Hope education," Roger says. "I owe a debt of gratitude to Hope. It's a good feeling to be in a position to give back."
It's a joy to have Roger and Beverly as a part of the Hope community.