Second-Generation Family Creates Lasting Legacy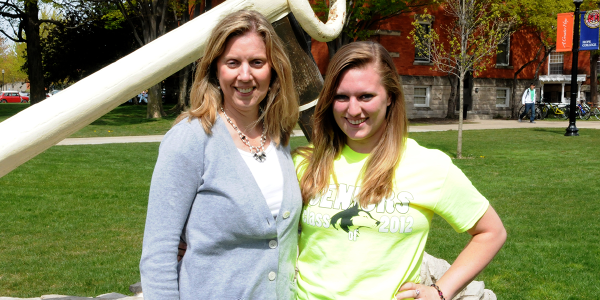 Linda Miller & daughter Cailyn
Linda Miller '83 has fond memories of her time as a student at Hope. A computer science major and math and physics double minor, she recalls Herb Dershem and Richard Vandervelde as professors who had an impact on her academic career. She fondly remembers the Rev. Jerry Van Heest as dean of the chapel and the good times she enjoyed outside of the classroom as a member of the Delphi sorority and Mortar Board.
Linda was born in Michigan but raised in Massachusetts, and when the time came to choose a college, she explored several schools in the Midwest, including Hope. "I had an instant connection to Hope when I visited as a senior in high school and was impressed by the hospitality and genuine sense of community," she says.
PLANNING FOR THE FUTURE
Linda and her two daughters now live in Naperville, Ill., where she works as a computer analyst and programmer. In recent years, Linda's focus has centered on the education of her daughters. Linda's eldest daughter, Carissa, will graduate from Calvin College this spring. Her youngest, Cailyn, will be a freshman at Hope this fall. Linda is looking forward to the next chapter in her life as a proud Hope parent!
As an alumna, Linda has been a faithful, longtime supporter of the Hope Fund and has also contributed to the Herb Dershem Scholarship Fund. Linda recently made provisions to include Hope in her estate, a decision she says was motivated by her appreciation for the quality education she received as well as the long-term relationships she established during her time at Hope.
Hope College is grateful for Linda and her continued involvement in the life of the college. To learn how you can make a lasting gift to support the future of Hope, please contact Hope College at 616.395.7775 or development@hope.edu.