Providing for Future Generations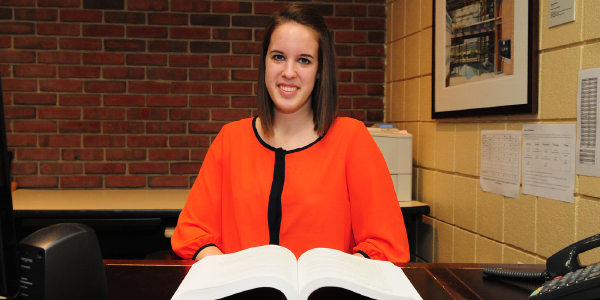 Charlotte Korson
Scholarships are considered one of the most cherished of all gifts to the college because they help make a Hope College education affordable for talented and deserving students. Establishing a scholarship through a planned gift, such as through a will or trust, provides the necessary financial aid for future generations of students to enjoy the Hope experience.
Charlotte Korson is a Hope sophomore from Muskegon, Mich., who is doublemajoring in management and economics. She went to a small, private Catholic school and knew that she wanted the same sense of community in her undergraduate experience. "Hope's academic reputation combined with numerous opportunities and a low student-toteacher ratio drew me in originally," Charlotte says. "Once I visited and experienced the overall atmosphere, I knew that Hope was where I belonged."
A need-based scholarship provided Charlotte the opportunity to attend Hope. "At first, I was hesitant to look at Hope knowing that I had to personally pay for my college education," she says. "If it were not for the generosity of the donor who established the scholarship I was awarded, I would not have been able to attend the school I love."
Charlotte also expressed a desire to one day do her part in providing for future Hope College students. "I am thankful that there are donors who want me and other Hope students to experience what they once loved," Charlotte says. "And, if possible, one day I hope to do the same."
If you would like to help students like Charlotte attend Hope by establishing a planned gift, contact Hope College at 616.395.7775 or development@hope.edu.