Hope Always an Influence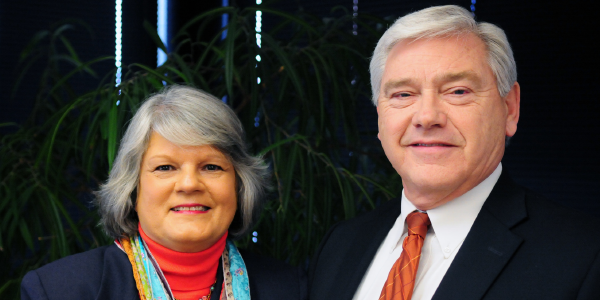 Nancy & Dan '68 Krueger
"Any time someone calls and asks if I want to do something for Hope, I'm always eager to help and participate." This is the sentiment expressed by Daniel Krueger '68. And although not a Hope alumna, Dan's wife, Nancy, has been a part of the Hope family since the end of Dan's sophomore year at Hope. That's when the high school sweethearts married. Dan fondly recalls that, even though being a married man, he was still required to attend chapel three times a week!
It was no surprise to Dan that he chose Hope. Raised in nearby Muskegon Heights, Mich., Dan was very familiar with the college. His great-grandfather was a minister for the Christian Reformed Church, and Dan was actively involved in his home church, Covenant Reformed, during his youth.
"There really wasn't any question about it," Dan says. "Being church-related and highly respected, Hope was where I wanted to go."
Upon graduation, Dan and Nancy settled in the Holland area to work and raise a family. Dan initially taught for a local school district and, after completing his graduate studies at Michigan State, was appointed assistant principal. During this same period, Dan began working in local politics. After several years in various roles, Dan was elected Ottawa County clerk - a position he holds today, now with the additional duties of register of deeds.
When asked why they chose to include the college in their estate plans, the Kruegers explained their unique circumstances.
"After Dan's grandfather passed away, he left us a sum of money so that we could visit Dan's brother, who was stationed overseas," Nancy says. "We needed to draw up a will before leaving in case something happened to us."
"Hope had a big influence on my life," Dan says. "We decided early on to include Hope in our will, and it's still there today."
ACTIVE IN THE LIFE OF THE COLLEGE
In this phase of their lives, Dan and Nancy enjoy the Hope Summer Repertory Theatre season passes they receive each year from their two daughters, Heather a 1989 Hope alumna and Daniele. Dan has also been a class reunion volunteer and has assisted in fundraising as a class rep. He has enjoyed taking in baseball games over the years (Dan played for Hope all four years and was on an MIAA championship team), and the Kruegers have attended many Community Day events on campus.
"I've had many opportunities over the years to talk to young people," Dan says, "and I still enjoy encouraging them to come to Hope."
Hope College is grateful for Dan and Nancy's active involvement in the life of the college.