Philanthropy Through Planned Giving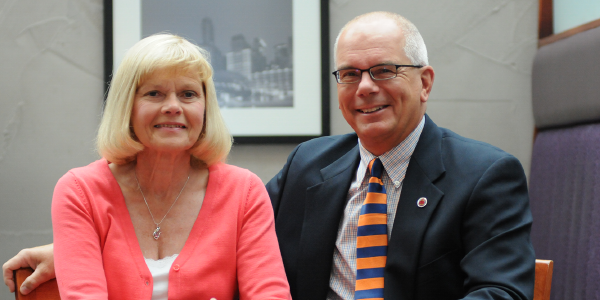 Gerald Bax '42 and his nephew Garry Kempker '74
Establishing a Hope College charitable gift annuity is a great way to support the college and, at the same time, receive partially income tax-free payments in retirement. Just ask Hope College alumnus Gerald Bax '42. Gerry and his wife, Eleanor, are longtime, cherished friends who, since 1968, have joyfully provided financial support to the college in furthering its mission. Both have established several charitable gift annuities over many years.
Gerry and Eleanor have used the gift annuities as a way to supplement their income and satisfy their giving intentions. "It's a win-win for us, and Hope remains a beneficiary of our estate," Gerry says.
Gerry and Eleanor's lives actually began together as 4-year-olds. They were raised in the same Holland neighborhood as children and both attended Bethany Reformed Church. When asked about their support of Hope College, Gerry says, "I never thought of attending any other college. El and I support Hope because we believe in the mission and want to help its students."
Gerry and Eleanor have shared a close relationship with their nephew, Garry Kempker '74, and Garry's wife, Gloria. That strong and special relationship instilled in Garry and Gloria the importance of philanthropy. They have included Hope in their estate plan and intend to support Hope in similar fashion as they near retirement.
Garry, a member of the Hope College Alumni Board, feels very grateful to have Gerry and Eleanor in his life. As Garry puts it, "We see each other regularly, and we have shared many blessings. It's great to have them in my life."