Christian Liberal Arts Education Put to Use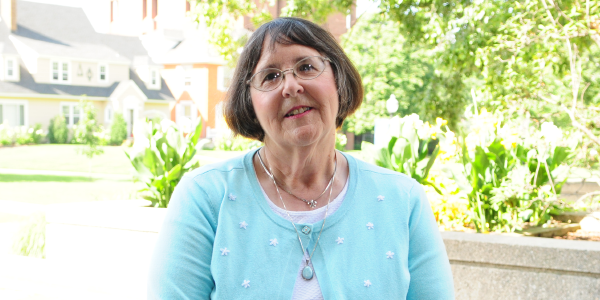 Dr. Linda Provo '71 Fulton
The mission of Hope College is to "educate students for lives of leadership and service in a global society through academic and co-curricular programs of recognized excellence in the liberal arts and in the context of the historic Christian faith."
Dr. Linda Provo '71Fulton is an excellent example of what the college had in mind when writing its mission statement.
Entering Hope as a freshman, Linda planned on becoming a teacher.
"My mother thought that being a Latin teacher would be a good, safe career," Linda says.
However, once she started taking education classes, she realized teaching wasn't for her. Linda graduated with a major in the classics and a minor in geology-she was actually one of the first to earn a minor in that field of study.
Linda went on to earn a master's degree and a Ph.D. in geology. After her doctoral work on the black shales of the Appalachian Basin, she transitioned into oil. She married Dr. Kenneth Fulton, also a geologist, and they became one of the first husband-and-wife teams in geology at Exxon.
While at Exxon, Linda began taking organ lessons-an interest which originated when she was a student at Hope-and eventually left Exxon to pursue more formal music study.
"I never planned on getting a music degree," she says.
But, after six years, that's exactly what she did. In 2011, Linda had the opportunity to play the restored Skinner organ in Dimnent Chapel, and she enjoys playing at her church in Ripley, Ohio, near where she currently resides.
Linda appreciates the many opportunities that Hope College offers its students.
"Even though my career was in the sciences, I'm certain that my background in Latin enhanced my capabilities for writing and communicating," she says.
When asked why she supports Hope and has included the college in her estate plan, Linda says she feels an obligation to give back and is happy to do so.
"I was fortunate and blessed that Hope enabled me to have a rewarding career and life," Linda says. "I benefited so much from having a liberal arts education with a Christian emphasis."
Summing up her thoughts on the importance of giving back to Hope, Linda explains, "Not all of us are able to name buildings. But, if you give steadily, over time you can make a difference."
Hope is privileged to be tasked with fulfilling Linda's gift intentions. With her foresight and that of many others, the college will be able to provide future generations the opportunity to enjoy the Hope experience.
To learn how you can make a gift to support Hope's future, please contact Hope College at 616.395.7775 or development@hope.edu.