Giving Back to Hope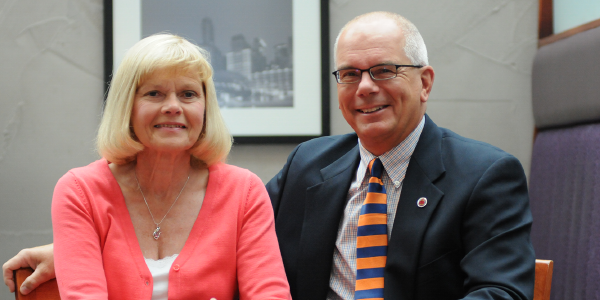 Garry '74 and Gloria Kempker recently moved back to the Holland area.
"We're glad to be home," Garry says.
Garry retired in April after working 37 years as a trust banker in West Michigan and is pleased that he and Gloria can begin the next phase of their lives closer to family, friends, activities, and the institutions that mean the most to them.
Garry and Gloria grew up in Holland. Gloria attended Holland Christian Schools and is very supportive of the school system.
"Now that we're back in Holland, we can attend Hope basketball games and other college and community events," Gloria says.
Since Garry has many family ties to Hope and the Reformed Church in America-especially through his father, Tony Kempker '46, and uncle, Gerald Bax '42-he felt confident in his calling to continue his family's generational legacy by attending Hope.
"My family, friends, and education are grounded and surrounded in the Christian faith, and Hope is a very large part of that," Garry explains.
Now serving on the Alumni Board, Garry feels blessed to be in a position where he can once again be involved in the life of the college-albeit in a different role. In conjunction with the Office of Alumni and Parent Relations, Garry is working on a new alumni program to connect business owners with other businesses, student interns, and young alumni.
"You reach a point in your life where you want to give back," Garry says.
Garry and Gloria recently volunteered at the sidewalk sales in downtown Holland for the Hope-Geneva Bookstore.
Being financially supportive is also important to the Kempkers.
"We can not only give of our time, but we can now leave a financial legacy for the institutions that have meant the most to us," Garry says.
Hope College is grateful to the Kempkers for giving their time, talents, and financial resources to help support current and future students through their estate plan.
We're so glad that Garry and Gloria have come home!
If you would like to help provide future students with the financial assistance they may need to attend Hope, please contact Hope College at 616.395.7775 or development@hope.edu.