Giving Hope to Students Who Need a Helping Hand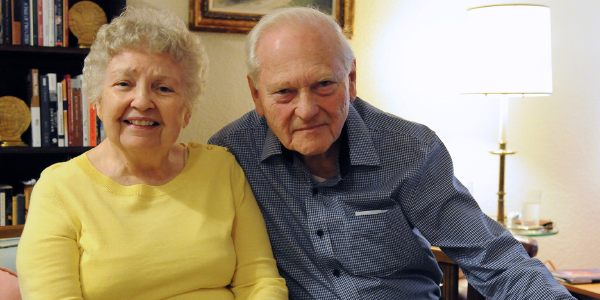 Duane & Phyllis Sherman Booi
Duane '49 and Phyllis "PJ" Sherman '50 Booi met at Hope College in 1946; she was a freshman and he was a sophomore just out of the Navy. The two connected while singing in Professor Emerita Jantina Holleman's madrigal group.
"One of the songs was 'I shot an arrow into the air, it fell to earth I know not where.' I was shooting make believe arrows across the void, and we started going together, as it was called back then," Duane recalls.
Duane and PJ married in 1950 in Dimnent Memorial Chapel with the Women's Glee Club singing. "A great way to start a life together," says PJ.
In celebration of that wonderful life together, the two have decided to include Hope College in their estate plans. "Hope was where we met and married, and giving back was the natural thing to do. We're pleased that some of what we have left will go to help future students," Duane says.
Life After Hope
After graduation, Duane began a career with an engineering/ manufacturing/ construction firm in Chicago and took night classes at DePaul University College of Law. For the next 35 years, he worked various positions in the construction field, traveling throughout the U.S. and abroad.
"Whether language or math, or economics or speech, I am grateful for Hope and for my professors for the solid educational foundation upon which-in so many direct and indirect ways-I was able to build and to succeed," Duane says.
After graduating with a music degree, PJ went on to obtain a masters equivalency from DePaul University and enjoyed a successful career in teaching. "My introduction to music at Hope was directly related to my career and to our mutual enjoyment of music through the years," she says. PJ served as the soprano soloist for the Chicago Christian Choral Club and the soloist for two choral groups in the Philadelphia area.
Coming back to Holland, Michigan, after retirement was primarily due to the couple's connection to Hope College, Duane explains. Since their two children also attended Hope, "it just seemed natural to return to the place that has meant so much to us and has been such an important part of our lives."