One Semester Leads to Decades of Service and Support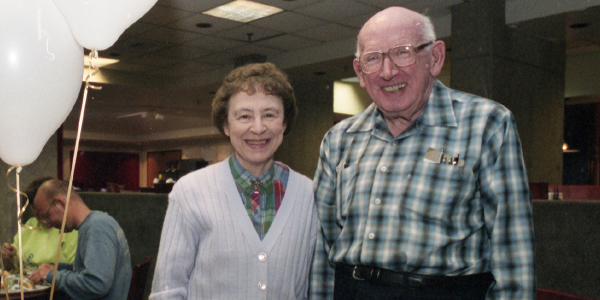 Dorothy & Frank Sherburne
Gifts Help Future Generations at Hope
Dorothy Sherburne has many fond memories of Hope College dating all the way back to 1959. That's when her late husband, Frank, was offered a one-semester teaching assignment in the math department by President Irwin Lubbers and Dr. John Hollenbach. "President Lubbers must have sensed our situation, because he pulled out $10 from his wallet so we could get some lunch," she recalls of the interview. "I don't think that would happen today."
That one-semester assignment turned into 35½ years as a professor of mathematics at Hope for Frank. It also began a longstanding affection for and dedication to the college. "Coming to Hope was an answer to our prayers," Dorothy says. "Frank felt that it was a calling, and we fell in love with it right away."
Once the Sherburnes and their young family were settled in Holland, Frank and Dorothy began to immerse themselves in the life of the college. Dorothy recalls being actively involved with the "faculty dames." Back then, the vast majority of faculty were men, and the women would meet socially-sometimes at the President's Home-donned with hats and gloves.
Giving to Hope
When asked why they began to support the college, Dorothy says, "Well, first of all, we were asked." The Sherburnes started their giving by supporting the annual fund. They also witnessed firsthand the excellent education students receive at Hope. Their daughter, Marie Sherburne '77 Mercier, has enjoyed a successful career as an educator. As the years passed, explains Dorothy, their affection for and support of the college only grew. "We felt a sense of appreciation for everything that Hope gave us, and we wanted to help and to give back," she says.
Hope College is grateful to Frank and Dorothy for their support in giving future generations of young women and men the opportunity to enjoy the Hope experience.