Vision of Music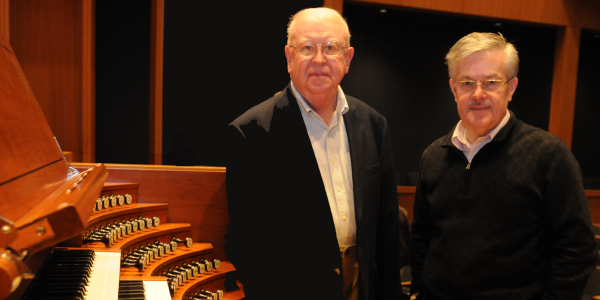 David Roossien leaves a gift of music at Hope College in the Concert Hall at the Jack H. Miller Center of Musical Arts.
IRA Rollover Produces Fabulous Casavant Organ at Hope
David Roossien had a vision. His vision was to allow all of the Holland community to experience the joy of pipe organs and its music. At Hope College, David utilized the IRA charitable rollover to make the organ a reality in the Concert Hall at the Jack H. Miller Center of Musical Arts.
David has always had a great appreciation for music and the effect it has on the community and students at Hope College.
"I enjoy giving to Hope College because I know that my gift will stimulate the music department and faith development, which in turn generates music appreciation in the community," David says.
David developed an early interest in classical music and pipe organ in grade school. After services at Pillar Church, he would enjoy Sunday dinner and tune in to Organ Hour on WHTC where various churches around town would feature organists live on the radio. In high school, he would regularly visit Meyer Music on 8th Street and listen to vinyl records in a small booth. He was finally able to save up and purchase his first album, The Nostalgic Travelers, which still remains in his collection. He now serves as a member of the Holland Symphony Orchestra Board of Directors.
David retired from Warner Lambert in 1996. At that time, he and his mother decided to fund a complete rebuild of the Pillar Church organ, which is known as one of the finest church organs in Holland. The organ concerts on Wednesdays during the summer have been held since the rebuild at Pillar Church.
When Hope College announced the building of the Concert Hall in the Jack H. Miller Center for Musical Arts and the upcoming celebration of the sesquicentennial, David proposed a world-class pipe organ be installed. It had always been his wish that if a concert hall were ever built in Holland he would be able to provide funds to make such an organ a reality. The Casavant Frères of Quebec was selected because of their distinguished contiguous history of building organs and their recent installments at the Kennedy Center in Washington, D.C. and the Kauffman Center in Kansas City.
David is adamant to say, "I greatly appreciate the support of Mark DeWitt '87 in this process. Mark, Huw Lewis and I worked hand in hand throughout this project and experienced the auditioning of this organ as it was assembled. We traveled to hear and experience the assembled organ and its eventual installation. I am overwhelmed and pleased. Without the IRA rollover, this may not have become a reality."
Realize the Power of a Gift
If you also share a passion for Hope College, please contact Hope College at 616.395.7775 or development@hope.edu to learn more about gift planning today.